Located in the heart of the town, adjoining the library, Immingham Museum is a small, independent museum with charitable status.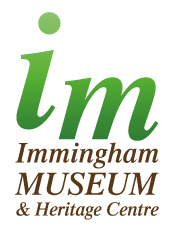 The museum showcases local history with a range of exhibitions including:
The town's connection the Mayflower Pilgrims and their dramatic escape from the shores of Immingham in 1608;
The history of Immingham Dock, which was opened by King George V in 1912 and how it has grown to the largest port by tonnage in the UK;
The influence of the Great Central Railway;
An extensive working model railway display on the first floor;
Many of the displays feature memorabilia, photographs and documents along with room settings including 1940's, Victorian/Georgian and a grocery/chemist store.  There is a rolling programme of changing exhibitions each year.
The museum is an accredited through Arts Council England's Museum Accreditation, a national benchmark for museums.
The museum is open to the public four times a week – Tuesdays, Wednesdays, Fridays and Saturdays 1pm to 4pm – with additional opening for special events and pre-arranged group visits.
Entry is free of charge but donations are most welcome as the museum is run entirely by volunteers and through charitable donations.
Tel 01469 727272
www.imminghammuseum.org